SRZ - experimental frequency generator

TECHNICAL SPECIFICATION - This new design of SRZ is PC Programmable :
The Super Ravo Zapper is a new, easy to use experimental frequency generator from Czech Republic .
It took team of engineers two years to develop this device. It is a multifunctional, programmable square wave frequency generator with adjustable voltage output .

It comes with preloaded programs with the capacity for 740 more user defined sets. The Super Ravo Zapper is portable and rechargeable with a built-in battery that lasts 10 to 12 hours.

It has an output level checker, verifies that proper conductance is being made between the electrodes, has a short circuit protection, and can charge from 110/120 or 215/230V electrical outlets for worldwide use.

This multi-functional Zapper comes with factory preset languages and can be changed anytime by downloading the program from website www.zapper.cz
The backlit two-line LCD display shows time to go, actual frequency values, output voltage level, battery status, etc.

There is sound signalling of most of the functions, which can be disconnected if desired.

There is also signalling of a short circuit or the disconnection of the electrodes.

The Super Ravo Zapper has an accuracy of 0.001Hz . Unique feature is in that it automatically sweeps around the set up frequency by this increment within the programmed range.
This feature is making it a revolutionary advanced frequency generator for any experimentation !
The original programs are all stored in non-volatile memory and can be restored anytime. Programs beep – to let you know the status as it is running.

The box contains the zapper, power charger, cables, USB cable for connection to PC,food grade stainless steel handholds, and a user manual - all in a custom made padded case.

Get the Super Ravo Zapper today and enjoy experimentation !
The Super Ravo ZAPPER contains:
- double impulse voltage regulator

- input voltage on electrodes is controlled digitally

- high-performance microprocessor

- FRAM memory

- double converters for measurement of current and voltage

- microprocessor-controlled oscillator

- digital two-line backlit display

- built in accumulator 12 V (min. 1,000 charging cycles)

- 740 free customer pre-selections options

- language versions of operation – English, Spanish, German, Hungary,Czech,Slovakia...

- charging, processor-controlled circuits for the optimal charging of the accumulator

- automatic disconnection during the short-circuit of electrodes

- sound signalling for most functions

- electrodes made from food grade stainless steel

Other features of the SRZ device

- all programs can be edited

- option to set the output intensity of the frequency (5-15V)

- smooth control of the frequency sweep

- setting the time of activity for 1min - 99 hour.

- output voltage starts at 30% of the voltage level and gradually increases to the full 100% output energy
Super Ravo Zapper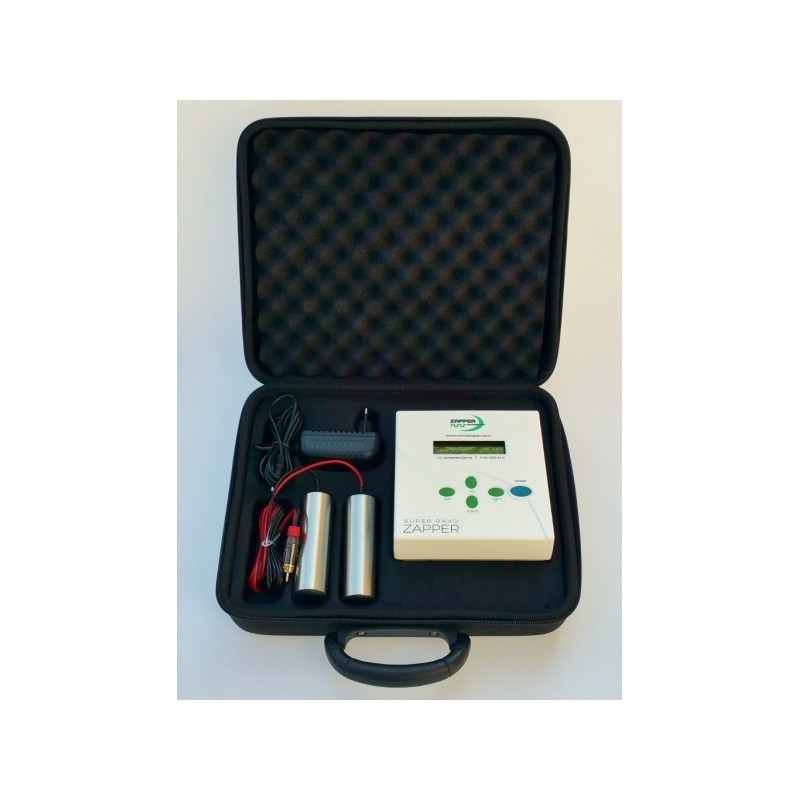 $ 850.00 AUD
The best Zapper in the world with
Overseas customers please use the Buy Now button bellow =>
shipment A$60